Benjoli Breeze
Royal Westmoreland, St James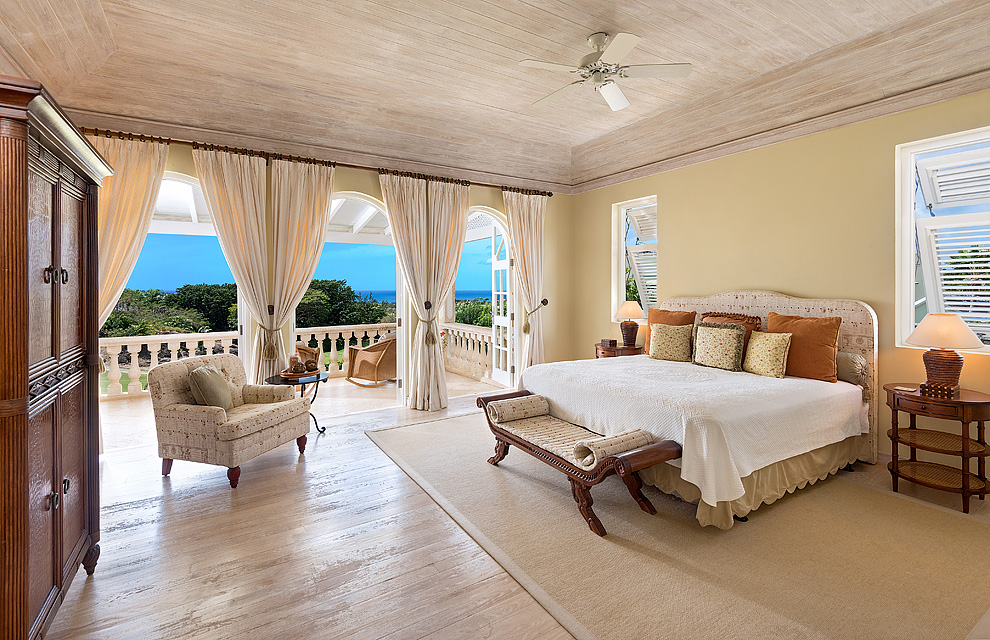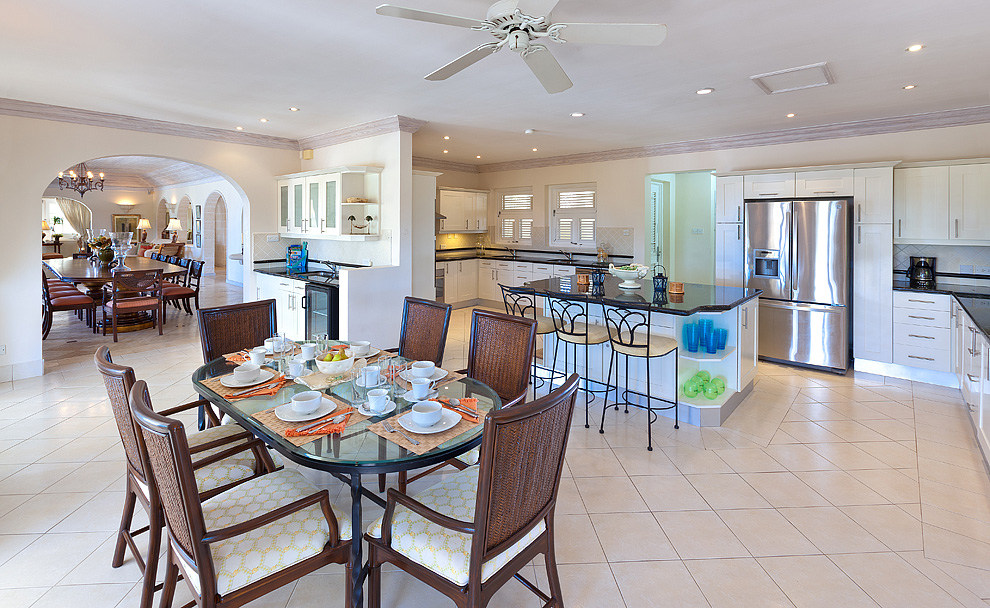 Minimum stay (nights): 5
Gaze onto Royal Westmoreland Golf Course as it fades into the Caribbean Sea, whilst enjoying a cool drink on the veranda of this sumptuous colonial style villa.
Please complete your details below to start your booking
---
Details
Nestled along the 16th Fairway, Benjoli Breeze is a colonial style five-bedroom residence which offers breathtaking views of the golf course and western coastline. The grand entrance opens to a spacious lobby area which includes a powder room / bathroom and an office that can be converted to a bedroom. A stair case leads up to bedrooms 1 and 2 on the first floor.
From the lobby, a large open plan living and dining area featuring high ceilings and ceiling fans continues outside to a covered terrace and open air terrace. To the left of the terrace is a covered outdoor dining area, seating 12, perfect for dinner parties and entertaining in the warm evening Caribbean breeze.
Ahead is a large pool with a spacious deck area surrounded by a mature garden, overlooking the fairway and a wonderful view to the Caribbean sea.
Via a short hallway from the lobby area there is Guest bedroom 2, a Twin-bedded room with en suite bathroom and doors opening onto the pool deck. The Master Suite and first Guest bedroom; located upstairs both offer King beds and open out onto a large private balcony. Both bedrooms offer en suite bathrooms. The property also includes two interconnected cottages accessed from the pool deck. One cottage has a King bed, the other has two Twin beds; both with en suite bathrooms. The cottages each have their own private patio area. Cottage 1 has views over the fairway to the sea.
In addition to the Amenities offered on the Royal Westmoreland Resort, guests of Benjoli Breeze can also enjoy access to the beach facilities at Royal Pavilion.
Clients wishing to use Royal Westmoreland amenities will be required to pay upon arrival US$10 per day for the full number of days of their stay i.e. it is not possible to pay 'ad hoc' by the day. Children under the age of 16 do not require passes.
Staff: Maid/Laundress
Facilities
West Coast
DVD player
Outdoor Dining
Ceiling fans
Near Golf Course
Bar-B-Q
Gym
Cable TV
Safe
Stereo
Air-conditioned Bedrooms
Tennis
VCR
High Speed Internet Access
Wi Fi
Maid/Laundress
Swimming Pool
Location
Reviews
What a wonderful place! Benjoli Breeze will hold special memories for us. We spent the most magical two weeks celebrating my husband's 60th. A very special thank you to Franca for being so efficient and looking after us so well. My kids didn't want to leave so i'm sure we hope to come back to create even more special memories.
---
We are back in paradise: thank you so much for our stay in this beautiful Bajan home. it is so special and we are pinching ourselves to be back here again. Time passes so quickly, we were first here in 2002 and it is as magical now as it was then.
---
Had a truly wonderful stay at Benjoli Breeze. A little piece of paradise loved by the entire family.
---
As my first ever time in the Caribbean I can't imagine a better place to experience it. It's fair to say Barbados has stolen my heart and most definitely my stomach with all its phenomenal food! It has been an utter privilege to stay at Benjoli Breeze, there is nowhere quite like it. Franca, thank you. You have been amazing, so kind and we loved nothing more than to have you taking care of us. I hope to stay at Benjoli Breeze again very soon.
---
Not our first trip to Royal Westmoreland but it was our first stay at Benjoli Breeze. Such a beautiful home and a wonderful base for our Barbados holiday. Franca has looked after us like family and we have had so much fun. The boys have loved the pool and playing in the garden. We have been at complete ease and all in all we have wanted for nothing on this trip. Thank you.
Rates
Rates shown subject to local taxes
Currency
5 Bedrooms (Sleeps 10)
Low season rates from:
| Period | Per night |
| --- | --- |
| 04/01/23 to 15/04/23 | $2035 |
| 16/04/23 to 15/12/23 | $1452 |
| 16/12/23 to 03/01/24 | $4400 |
| 04/01/24 to 15/04/24* | $2035 |
*Subject to confirmation by Owner