Half Moon
Sandy Lane, St James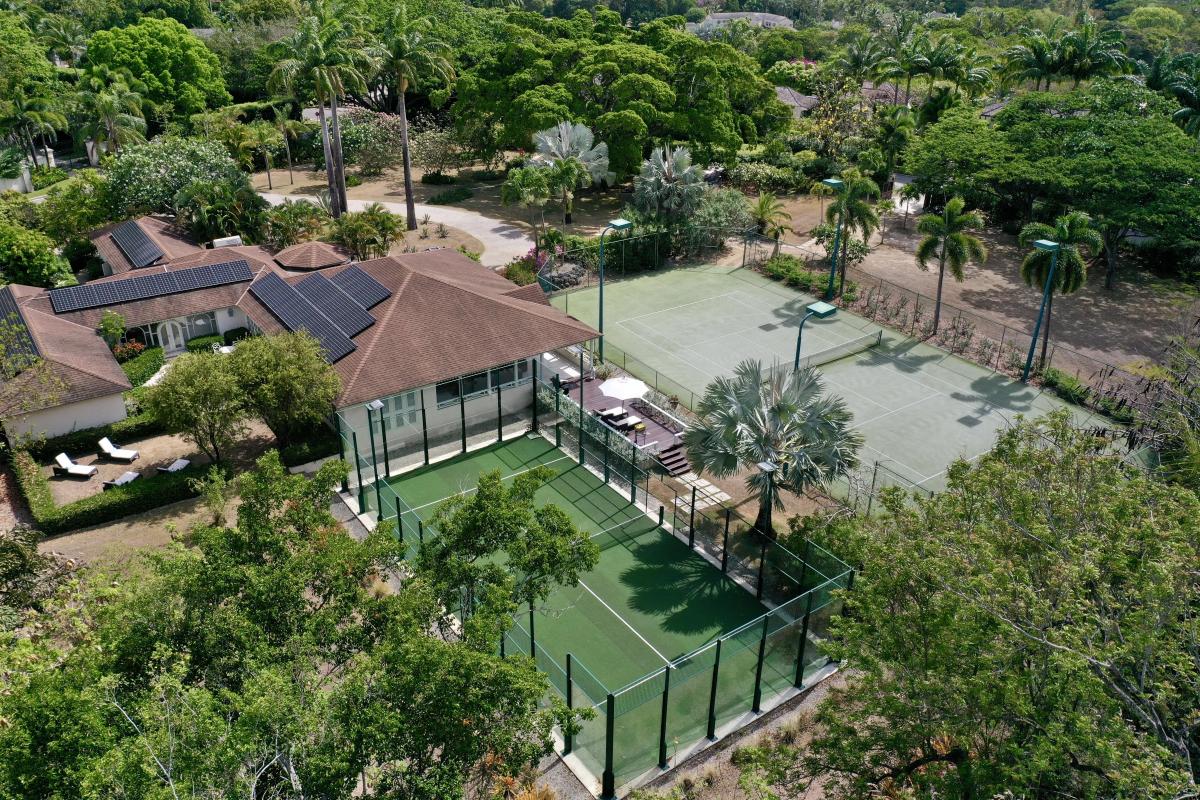 Minimum stay (nights): 7
10 beds
9.5 baths
Sleeps 10 to 20
Offering the height of luxury on the exclusvie Sandy Lane Estate with breath taking ocean views and complete privacy
Please complete your details below to start your booking
---
Video
Details
Half Moon is one of the most luxurious properties on the Sandy Lane Estate, Barbados. Set amongst meticulously maintained grounds, Half Moon is its own tropical oasis. From its elevated position, Half Moon offers breathtaking ocean views and complete privacy. A holiday at Half Moon is a getaway unlike any other. Perfect for a large group of friends or a multi-generational family, guests can comfortably find their own private hideaway.
Featuring traditional Caribbean architecture, no detail has been overlooked. The light and airy Guest House is flawlessly appointed with treasures from all over the world. Luxuriously woven fabrics and bespoke accent furniture create a visual feast for the eyes. The elegant outdoor terrace is the perfect place to unwind with loved ones over a meal, cup of tea or cocktail. A TV area provides an ideal area to rest and recharge. The expansive pool area includes a lounge and bar, the quintessential spot to end the day and witness the beautiful display of colours that feature in a Caribbean sunset.
Half Moon includes five beautifully designed en suite bedrooms and one family suite which consists of a master bedroom and adjoining twin bedroom with shared bathroom. Each bedroom is thoughtfully designed with expertly crafted furniture and sumptuous bed linen and the bathrooms feature stand-alone tubs and walk in showers.
The Garden Bedroom master suite is nestled in the lower grounds and is an enchanting, private retreat for two. It features an elegant, breezy bedroom and en suite with a stand alone tub and a delightful walk in outdoor shower. A private balcony is the perfect space to have breakfast or lounge and read a book. A mini fridge and coffee machine are included along with a vanity table and writing desk.
The Chattel Cottage master suite oozes sophisticated Caribbean elegance with a touch of European flair. From the moment you set eyes on the charming entrance, you will know that a special retreat awaits you. A beautifully turned-out master bedroom greets you, along with a private balcony which boasts one of the best views on the property. The en suite bathroom includes a stand alone tub and walk in shower. No detail has been forgotten, with both a vanity table, writing desk featured along with a mini fridge and coffee machine.
The Tennis Pavilion is a place of fun, activity and relaxation. Featuring both grass tennis court, paddle tennis court, a gym and pool table along with a spa and salon, there is something for everyone to enjoy. For larger groups, there are three comfortable guest bedrooms, all with bathrooms featuring walk in showers. The Tennis Pavilion includes a covered lounge area and bar, an excellent place to unwind and a fully equipped kitchen and laundry area.
Half Moon and Tennis Pavilion is minutes away from world- renowned golf courses, dining and luxury shopping.
For those searching for an exceptional getaway with quiet luxury, complete privacy and no detail overlooked, Half Moon and Tennis Pavilion is the place where unforgettable memories are made.
Staff: Staff at this unique holiday home include an in-house cook, butler, daily housekeeping, daily laundress, 24-hour security and gardeners.
Facilities
Elevated Position with Breathtaking Views
Cabana at Sandy Lane Estate Beach Club
Luxurious En Suite Bedrooms
Private Gym and SpaSwimming Pool
Air Conditioning
BBQ
Cable TV
Ceiling Fans
Covered Terrace
Fully Gated
Private Tennis Court
Ocean Views
Security System
Wi Fi
Location
Reviews
Rates
Rates shown subject to local taxes
Currency
5 Bedrooms (Sleeps 10 guests)
Low season rates from:
| Period | Per night |
| --- | --- |
| 15/04/23 to 14/12/23 | $4550 |
| 15/12/23 to 19/12/23 | $6500 |
| 20/12/23 to 10/01/24 | $19500 |
| 11/01/24 to 14/04/24 | $6500 |
| 15/04/24 to 14/12/24 | $4550 |
| 15/12/24 to 19/12/24 | $6500 |
| 20/12/24 to 10/01/25 | $19500 |
7 Bedrooms (sleeps 14 guests)
Low season rates from:
| Period | Per night |
| --- | --- |
| 15/04/23 to 14/12/23 | $6500 |
| 15/12/23 to 19/12/23 | $9100 |
| 20/12/23 to 10/01/24 | $19500 |
| 11/01/24 to 14/04/24 | $9100 |
| 15/04/24 to 14/12/24 | $6500 |
| 15/12/24 to 19/12/24 | $9100 |
| 20/12/24 to 10/01/25 | $19500 |
10 Bedrooms (sleeps 20 guests)
Low season rates from:
| Period | Per night |
| --- | --- |
| 15/04/23 to 14/12/23 | $7800 |
| 15/12/23 to 19/12/23 | $12350 |
| 20/12/23 to 10/01/24 | $19500 |
| 11/01/24 to 14/04/24 | $12350 |
| 15/04/24 to 14/12/24 | $7800 |
| 15/12/24 to 19/12/24 | $12350 |
| 20/12/24 to 10/01/25 | $19500 |