Pappagallo
Sandy Lane, St James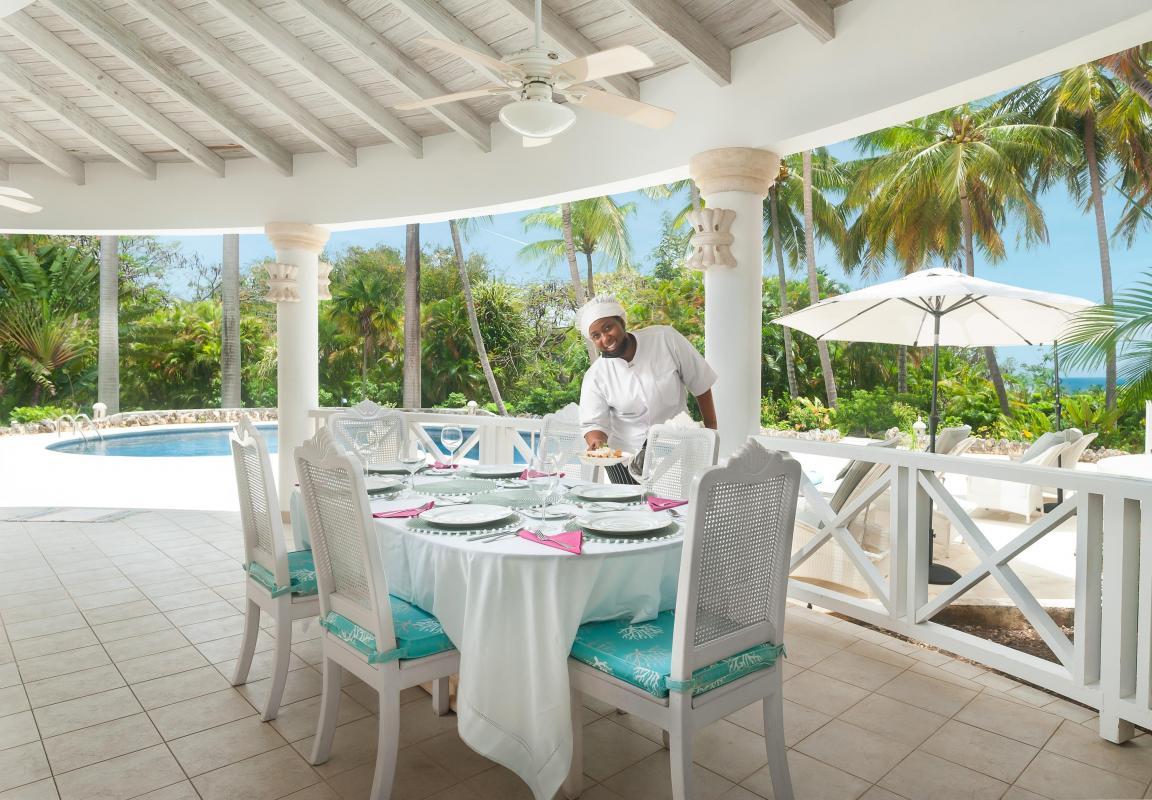 Minimum stay (nights): 5
Set within the exclusive Sandy Lane Estate this elegant coral stone villa enjoys privacy in extensive grounds with access to the nearby Sandy Lane Beach Club
Please complete your details below to start your booking
---
Video
Details
Pappagallo is a beautiful spacious villa located on the much sought-after Sandy Lane Estate.
This Barbados villa is set in approximately one and a half acres of lush gardens and enjoys
beach access at the Sandy Lane Estate beach club.
Villa Pappagallo, Sandy Lane Estate, offers five bedrooms each with an ensuite bathroom, a
sunny pool deck with two pools and uniquely landscaped gardens with meandering paths
that will lead you over a bridge, past a waterfall and through a shady gully with pergola and
BBQ area.
Entering Pappagallo villa there is an elegant and airy coral stone reception lounge, furnished
with comfortable sofas and a piano. Through the archway is a separate indoor dining area.
Three sets of double doors open out and welcome you onto a large, covered terrace with
views of the upper pool deck and sea beyond. Here there is ample space to sit and relax or
enjoy alfresco dining.
Stepping out onto the open upper pool deck there is a 15m pool and separate jacuzzi pool.
Sun loungers and chairs provide the perfect setting for relaxing with friends and family and
working on those tans of course too!! Beyond the pools, to the left, are steps leading to the
bridge that will lead you over the pond and into the lower garden with its tropical planting
and shaded gully.
If you need a quiet space to read or work, a separate front terrace stays cool and quiet
throughout the day and a fully equipped drinks station with a fridge and ice maker will
ensure everyone's drinks will be at the perfect temperature throughout the day.
Pappagallo offers five bedrooms. There is a spacious master ensuite bedroom upstairs with
a large, covered balcony offering stunning views over the pool deck below, to the sea and
horizon beyond. A further four bedrooms are at ground floor level, two on each side of the
villa. Each bedroom has a large ensuite bathroom, walk in wardrobes and supremely
comfortable beds with feather toppers and cool Egyptian cotton sheets. Two king bedrooms
have terraces onto the pool and two bedrooms provide super king or twin bed options.
All bedrooms have air conditioning, ceiling fans and hairdryers.
There is a well-equipped kitchen and the Pappagallo chef will tempt you with
amazing cooking. All the staff will be on hand to make your stay as perfect as possible.
Included during your stay is the free use of the private members Sandy Lane Estate Beach
club, located adjacent to the hotel and is just a three-minute drive away. Alternatively, you
can reach it by enjoying a beautiful 20-minute stroll along the Sandy Lane golf course. The
club offers a beautiful beach, ample sun loungers and a bar that serves light lunches. It is
perfect for socialising, organising water sports or simply relaxing. Golf and tennis facilities
are also available for booking at an extra charge and there is a golf club with wonderful
views over the Green Monkey golf course that is a great place for drinks or dining.
Pappagallo is within easy reach of Holetown, the hub of the west coast with its bars,
restaurants and shopping. Holetown is just a few minutes' drive away.
Please note the cost of groceries and drinks are not included in the price. However, we can
arrange to have your initial groceries delivered to the property for your arrival. This would
be payable directly to our local house managers.
Villa Pappagallo is a captivating rental villa that is light, airy, calm and peaceful. It is well laid
out with well-proportioned bedrooms and spacious en suite bathrooms. Outside offers so
much more than a sun deck and pool. it offers a taste of a tropical Caribbean estate with
over 30 coconut palms and woodland planting.
This villa for rent in Barbados offers the prefect retreat for families and friends.
Staff: Housekeeper and Chef
Facilities
Air Conditioning
All Bedrooms En-suite
Beach Towels
Ceiling Fans
Covered Terrace
Golf Course Access
Private Swimming Pool
Wi Fi
Sandy Lane Beach Club Access
Location
Reviews
Rates
Rates shown subject to local taxes
Currency
3 Bedrooms (Sleeps 6)
Low season rates from:
| Period | Per night |
| --- | --- |
| 11/01/23 to 14/04/23 | $1500 |
| 15/04/23 to 14/12/23 | $1075 |
| 15/12/23 to 19/12/23 | $1500 |
| 20/01/23 to 10/01/24 | $3400 |
| 11/01/24 to 14/04/24* | $1500 |
*Subject to confirmation by Owner
4 Bedrooms (Sleeps 8)
Low season rates from:
| Period | Per night |
| --- | --- |
| 11/01/23 to 14/04/23 | $1700 |
| 15/04/23 to 14/12/23 | $1175 |
| 15/12/23 to 19/12/23 | $1700 |
| 20/01/23 to 10/01/24 | $3400 |
| 11/01/24 to 14/04/24* | $1700 |
*Subject to confirmation by Owner
5 Bedrooms (Sleeps 10)
Low season rates from:
| Period | Per night |
| --- | --- |
| 11/01/23 to 14/04/23 | $2000 |
| 15/04/23 to 14/12/23 | $1300 |
| 15/12/23 to 19/12/23 | $2000 |
| 20/01/23 to 10/01/24 | $3400 |
| 11/01/24 to 14/04/24* | $2000 |
*Subject to confirmation by Owner