Reeds House 1 (Penthouse)
Reeds Bay, St James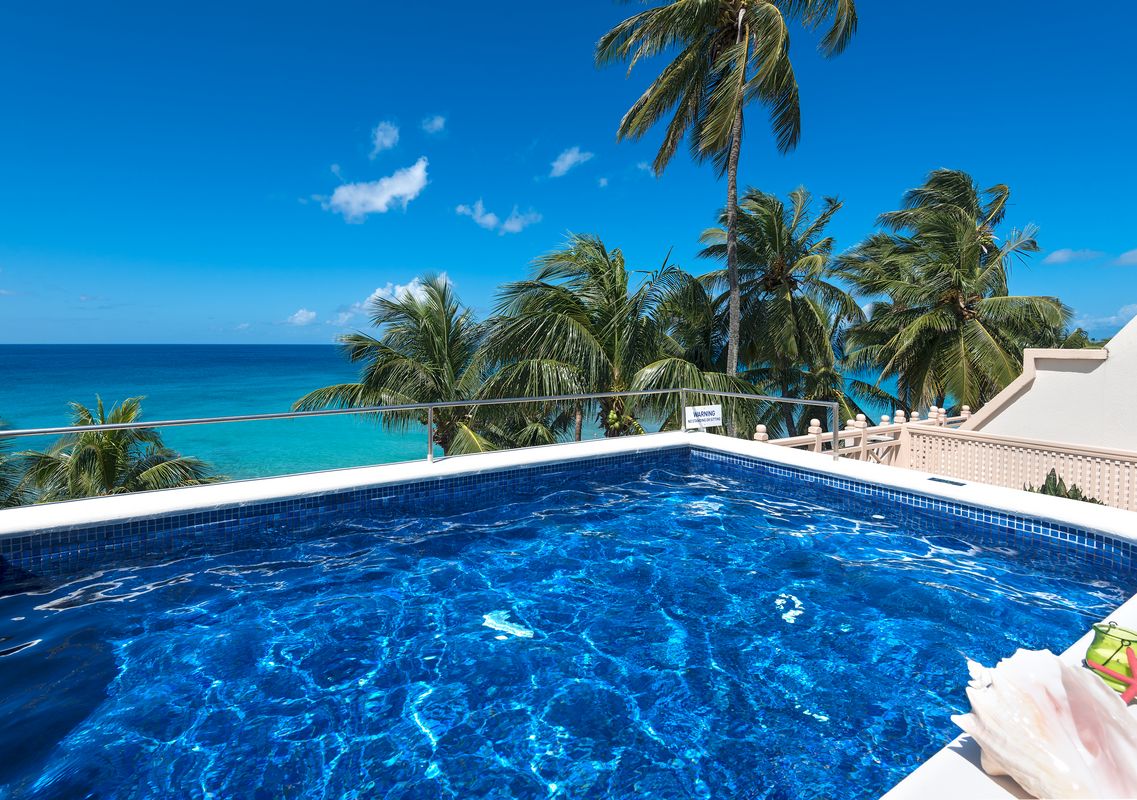 Minimum stay (nights): 5
1 beds
1.5 baths
Sleeps 2
Romantic penthouse apartment with panoramic ocean views!
Please complete your details below to start your booking
---
Details
The Penthouse at Reeds House offers stunning views of the pristine calm bay below and the added luxury of its own roof deck equipped with loungers, refreshing plunge pool and BBQ area, ideal for basking in the sun by day and romantic al fresco meals under the stars. The apartment itself features a full kitchen, laundry and washroom and a large king bedroom with walk in closet, spacious en suite and French doors leading out to the double patio and the gorgeous ocean breeze; all decorated in Caribbean colors and featuring local art. The living area and bedroom are fully equipped with entertainment systems and all the modern amenities.
Ideal for those looking for a romantic getaway this condo can also be combined with the apartments below to create a four bedroom getaway for families. Reeds House is equidistant from the bustling Holetown area which features many shops, restaurants and night time entertainment and the quainter historic Speightstown which offers a more laid back authentic island experience with restaurants specializing in Bajan cuisine and several art museums. Should you want to explore more of the island just ask the in house concierge who can book catamaran cruises, island tours and recommend all the best Barbados has to offer.
Cook / Housekeeper - Prepares two consecutive meals per day. Guests choice of breakfast and lunch, or lunch and dinner.
Facilities
Air-Conditioned Bedroom
Books
Ceiling Fans
DVD Player
Hair Dryer
BOSE Wireless Speaker
Cable TV
Wifi
Plunge Pool
Guard (12 hours)
Security Safe
Watersports by request
Golf Course Nearby
Tennis Court Nearby
Barbeque
Beach Chairs
Garden
Terrace
Beachfront
Beach Shower
Location
Reviews
The people in Barbados are so friendly and helpful. The island is beautiful with so much to explore! The staff in the apartment are amazing!!
---
Reeds House was just as it was advertised. The staff was beyond amazing; Sabrina was our cook/housekeeper and she did a wonderful job of making us feel comfortable. The beach was very small; but that worked great for us, it made it very private and intimate. Each morning the staff put out the chaise lounges and umbrellas on the beach for each of the occupants which was a nice touch! No scrambling for chairs and umbrellas like you do at a resort!
---
Staff was very helpful and responsive. Food was great. Villa was clean.
Rates
Rates shown subject to local taxes
Currency
1 Bedrooms (Sleeps 2)
Low season rates from:
| Period | Per night |
| --- | --- |
| 10/01/23 to 15/04/23 | $685 |
| 16/04/23 to 14/12/23 | $425 |
| 15/12/23 to 16/12/23 | $685 |
| 17/12/22 to 08/01/23 | $840 |
| 09/01/24 to 15/04/24 | $685 |