Schooner Bay 108 - Chilterns
Speightstown, St Peter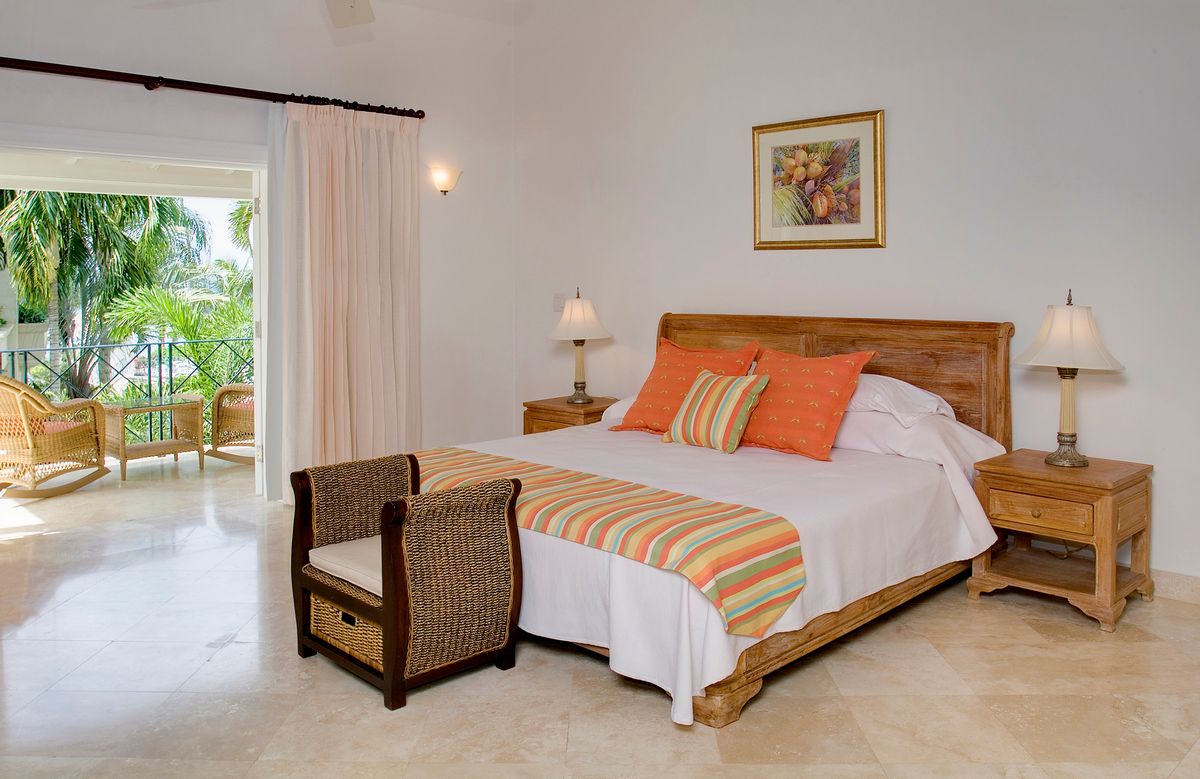 Minimum stay (nights): 5
Marble floors topped with rustic furnishings endow this apartment with the soothing atmosphere needed to unwind in front of the adjacent Caribbean Sea.
Please complete your details below to start your booking
---
Details
Schooner bay is a beachfront condominium that consists of three blocks of apartments with a freeform swimming pool as the focal point. Chilterns is a delightfully spacious one-bedroom, two bathroom apartment with all the finishes one would expect to find in a penthouse unit, with marble floors, marble bathrooms, custom-made Italian kitchen and granite work surfaces. It is furnished with a Caribbean flavour to compliment the cool, natural tones of the floors and walls.
While staying at Chilterns at Schooner Bay you can enjoy a range of activities which include relaxing in the jacuzzi, getting fit in the gym and swimming in the free-form pool or the tranquil waters of the Caribbean Sea. The poolside and beach are complete with sunbeds exclusively for Schooner Bay use. Watersports may be enjoyed by arrangement with Cobblers Cove Hotel, a short walk away, which also boasts an excellent bar and restaurant. Schooner Bay 108, Chilterns, is ideal for an exclusive, relaxing holiday in an island Paradise setting.
Your stay at Chilterns will truly be a memorable one.
Staff: Housekeeper 3 days per week, Security
Facilities
Washer/dryer
safe
non-smoking villa
near beach
high speed internet access.
hair dryer
gym/fitness centre
dvd player
dishwasher
central air-conditioning
ceiling fans
cable tv
beach access
communal pool
Location
Reviews
A beautifully decorated
---
very well-maintained little villa. Italian styling throughout
---
excellent quality fittings and finish. We loved it here. It was a dream property. Schooner Bay was very restful with a large pool and beautiful gardens (with resident monkeys and hummingbirds). Well-kept and plenty of space for all guests
---
lovely beach with loungers and parasols did
---
we didn't want to go home and we're already planning our return.
Rates
Rates shown subject to local taxes
Currency
1 Bedroom (Sleeps 2)
Low season rates from:
| Period | Per night |
| --- | --- |
| 08/01/23 to 14/04/23 | $550 |
| 15/04/23 to 14/12/23 | $300 |
| 15/12/23 to 07/01/24 | $650 |
| 08/01/24 to 14/04/24* | $550 |
* Subject to confirmation by the owner