Sugar Cane Ridge 22 Mimosa
Royal Westmoreland, St James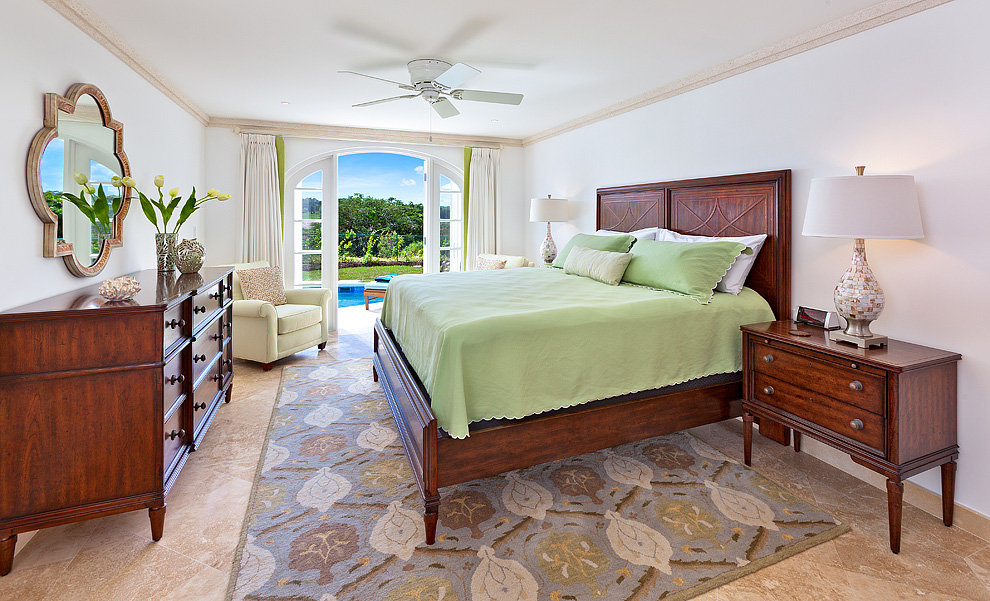 Minimum stay (nights): 5
4 beds
3 baths
Sleeps 6 to 8
Colourful, family friendly villa comes with unfiltered access to all Royal Westmoreland resort facilities.
Please complete your details below to start your booking
---
Details
Located within one of the newest avenues of Royal Westmoreland, "Mimosa" Sugar Cane Ridge No. 22 is a recently constructed 4 bedroom 3 bathroom residence which offers unobstructed views of the golf course and out to the island's coast line.
Featuring an open plan living and dining area, fully equipped Miele Kitchen, private pool and outdoor dining terrace, this property is ideal for family holidays and island retreats. The Master suite offers a King size bed, en suite bathroom and direct access to the pool deck. Bedrooms 2 and 3, also located on the ground floor share the second bathroom with Bedroom 2 offering a Queen size bed and Bedroom 3 offering two Twin beds. The 4th bedroom; located on the entry level of the property, offers an en suite bathroom and Queen size bed.
Guests of Mimosa can enjoy all resort amenities; these include: golf, club house, sanctuary, beach facilities, tennis, kids club and gym.
Clients wishing to use Royal Westmoreland amenities will be required to pay upon arrival US$10 per day for the full number of days of their stay i.e. it is not possible to pay 'ad hoc' by the day. Children under the age of 16 do not require passes.
Staff: Housekeeper
Facilities
West Coast
DVD player
Outdoor Dining
Ceiling fans
Near Golf Course
Bar-B-Q
Gym
High Ceilings
Cable TV
TV
Near Holetown
Safe
Stereo
Air-conditioned Bedrooms
Near Tennis
Tennis Court
Wi Fi
Housekeeper
Communal Pool
Swimming Pool
Ipod Docking Station
Location
Reviews
This spacious 4 bed villa set in a beautiful location is in the perfect place to relax! Conveniently situated near the large resort swimming pool and gym. Great view over the perfectly manicured golf course with tiny birds and monkeys to watch. Hospitality was faultless and couldn't have done enough for us. Batteries recharged, just what we all needed.
---
The villa was wonderful and the location very peaceful, exactly what I was looking for it. My group enjoyed heading down to the beach club for the day. I will definitely return."
Rates
Rates shown subject to local taxes
Currency
3 Bedrooms (Sleeps 6)
Low season rates from:
| Period | Per night |
| --- | --- |
| 04/01/23 to 15/04/23 | $815 |
| 16/04/23 to 15/12/23* | $475 |
| 16/12/23 to 03/01/24 | $1500 |
| 04/01/24 to 15/04/24* | $815 |
*Subject to confirmation by Owner
4 Bedrooms (Sleeps 8)
Low season rates from:
| Period | Per night |
| --- | --- |
| 04/01/23 to 15/04/23 | $870 |
| 16/04/23 to 15/12/23* | $540 |
| 16/12/23 to 03/01/24 | $1500 |
| 04/01/24 to 15/04/24* | $870 |
*Subject to confirmation by Owner