Sundeck House
St James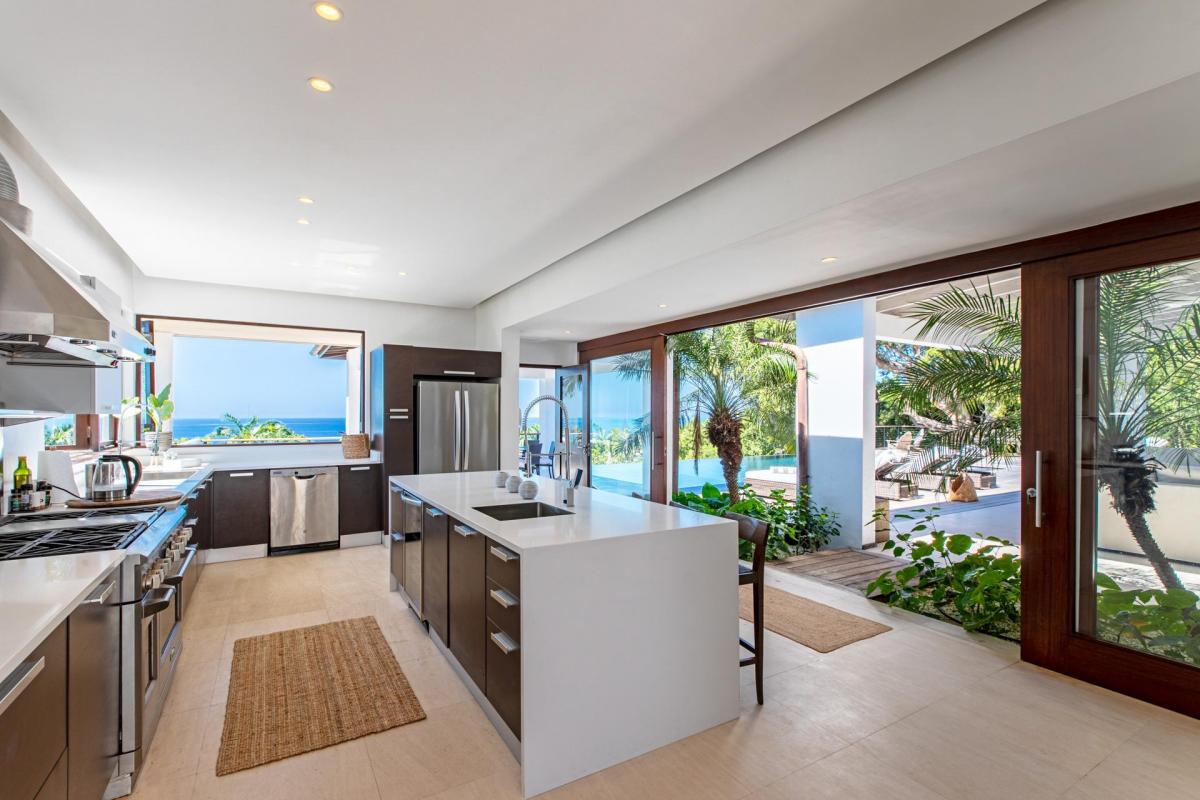 Minimum stay (nights): 5
5 beds
5 baths
Sleeps 6 to 10
A stunning sleek luxurious villa blending tropical immersion with far reaching ocean views
Please complete your details below to start your booking
---
Video
Details
Sundeck is a gorgeous Villa located in an ideal location along Westmoreland Ridge. There are 5 spacious en-suite bedrooms with air-conditioning, rain showers and views across the ocean and the golf course.
The master bedroom features a sea-view private patio, walk-in wardrobe, rain shower and a free-standing bath with views across Westmoreland Golf Course.
Sundeck Villa blends tropical immersion and sleek design in this exceptional location in St James, Barbados. A villa with exceptional views across the Caribbean Ocean. The 5 bedrooms feature four poster beds or private terraces, with white company products provided throughout. There is a well-equipped fitness room.
We are delighted to offer this sophisticated villa with sun loungers and membership at the Royal Pavilion Beach Club.
Facilities
Air conditioning
All bedrooms en suite
BBQ
Breezy ridge location
Deck
Gated entrance
Golf course view
Gym
Luxury Finishes
Panoramic views
Private terrace / deck
Resort view
Restaurants close by
Sun deck
Sun loungers
Sun terrace
Yoga Studio
Stunning Sea Views
Close to Holetown
Infinity-edge Pool
Royal Pavilion Beach Club Access
Location
Reviews
We recently stayed at Sundeck with another couple and could not have fallen inlove with the villa more! Everything from the open air living area facing the infinity pool with views of the sea to the large bedrooms and well equipped kitchen made our stay magical. We were met by a friendly smile and Andrea answered all our questions promptly. We have booked for next year already!
Top service and never a dull moment, a holiday full of relaxation and entertainment. A pool you wouldn't want to leave and a beach two minutes drive. Staff were incredible, see you again
This house is incredible and the pictures don't even do it justice. Spectacular views and tons of space. The host even arranged a tee time for us before our arrival. Also, the housekeeper - is fantastic and can help you with anything you need. I will definitely be back!
Rates
Rates shown subject to local taxes
Currency
3 Bedrooms (Sleeps 6)
Low season rates from:
| Period | Per night |
| --- | --- |
| 15/04/23 to 14/12/23 | $1400 |
| 15/12/23 to 19/12/23 | $1950 |
| 20/12/23 to 10/01/24 | $4400 |
| 11/01/24 to 14/04/24 | $1950 |
| 15/04/24 to 14/12/24 | $1400 |
4 Bedrooms (Sleeps 8)
Low season rates from:
| Period | Per night |
| --- | --- |
| 15/04/23 to 14/12/23 | $1700 |
| 15/12/23 to 19/12/23 | $2500 |
| 20/12/23 to 10/01/24 | $4400 |
| 11/01/24 to 14/04/24 | $2500 |
| 15/04/24 to 14/12/24 | $1700 |
5 Bedrooms (Sleeps 10)
Low season rates from:
| Period | Per night |
| --- | --- |
| 15/04/23 to 14/12/23 | $1950 |
| 15/12/23 to 19/12/23 | $2950 |
| 20/12/23 to 10/01/24 | $5000 |
| 11/01/24 to 14/04/24 | $2950 |
| 15/04/24 to 14/12/24 | $1950 |