Villa Melissa, Queens Fort
Porters, St James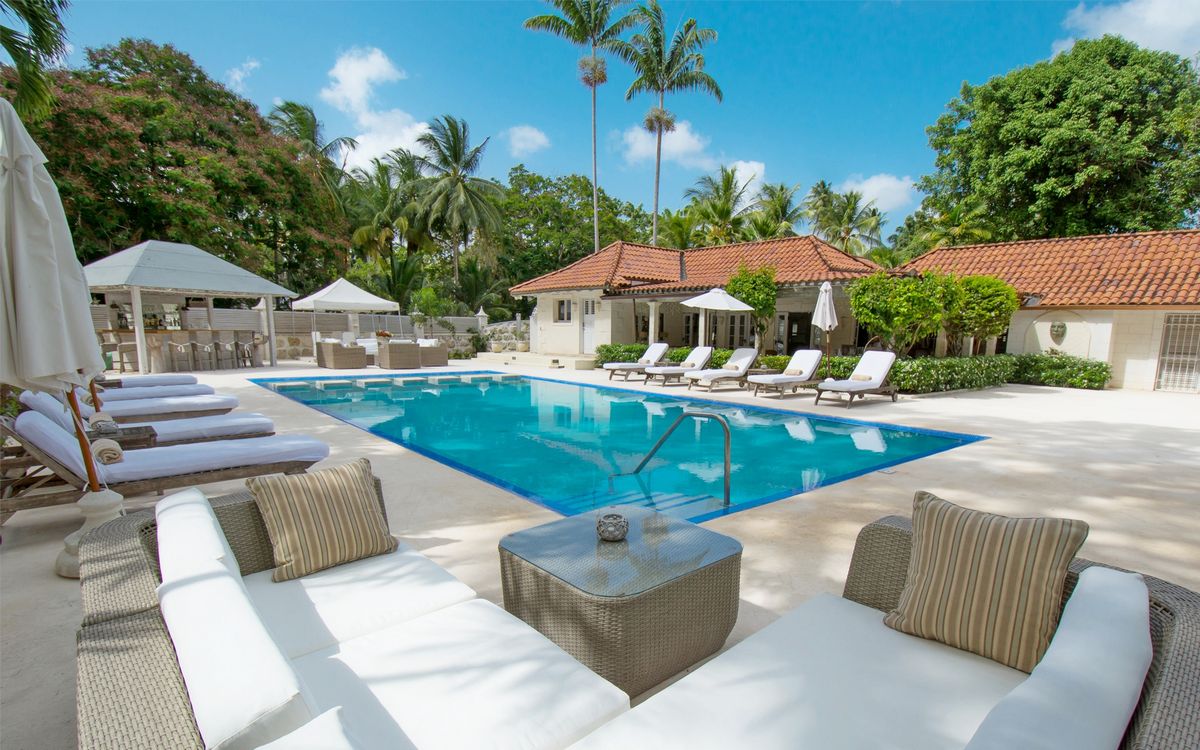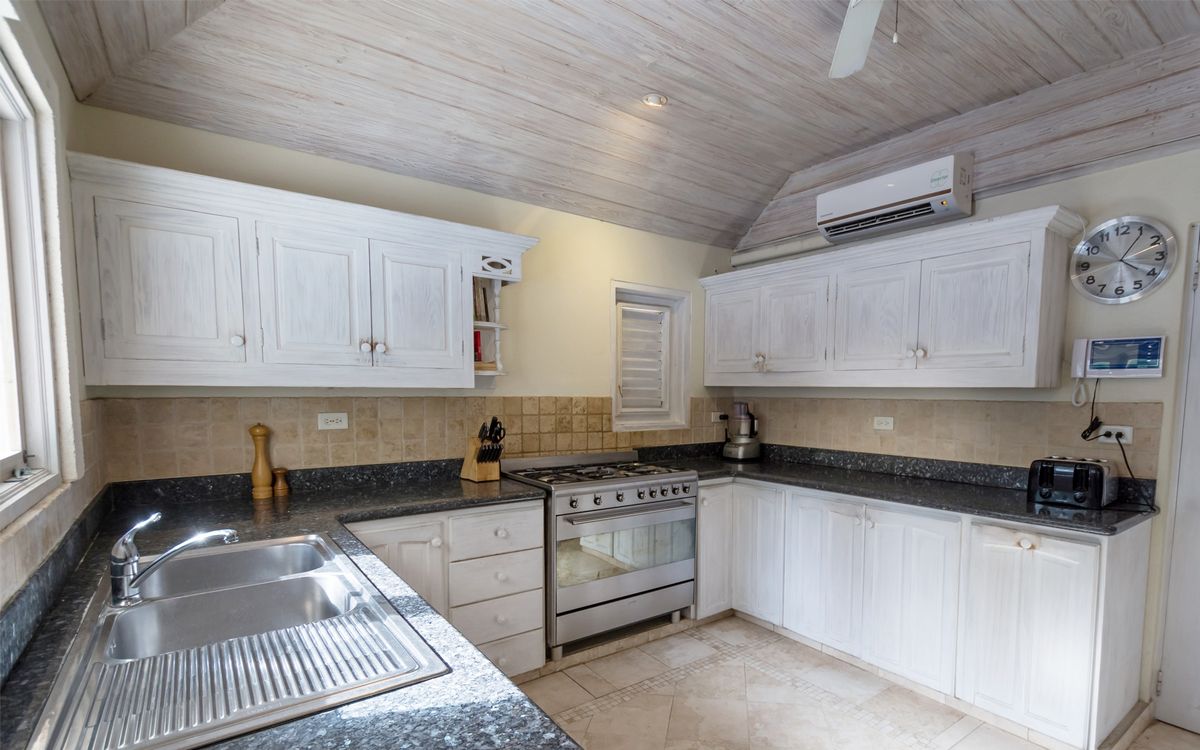 A charming villa with stunning pool with poolside bar, the perfect spot to relax and just a couple of minutes' walk to the beach!
Please complete your details below to start your booking
---
Details
Villa Melissa is a charming private villa on the west coast of Barbados in an area known as Queens Fort which is about a mile from Holetown. The house has 3 bedrooms in the main house and 2 bedrooms in the cottage which all have en-suite bathrooms and can be rented on a 5 bedroom basis.
The owners have created a secluded gated sanctuary in a quiet landscaped garden setting with a large saline swimming pool being the focal point and a tiki style bar called "Chubs one love bar" named after the owner who insists that its possibly a little unfair but none the less truer as the years go by. The bar is of a driftwood design and a popular place to hang out. Basic spirits and cocktail mixes are available and Rico will make cocktails to suit. There is a Sonos music system at the bar so do don't forget your iPod.
There are lots of places to either lounge about around the pool whether on sofas or sun loungers enjoying the beverage of your choice. There are also options to dine under cover on the patio or outside by the pool. More on dining further down. The pool has been divided by stepping stones with a shallow end that contains seating at one end so that parents can spend time with children or just sit in there with other friends. The shallow end is 3 feet deep and the swimming end is 4 feet 6 inches deep. The pool also has mood lighting which changes colour making outside dining or a drink at the bar a real treat at night.
The house comes with all the modern conveniences and has fibre optic Wi-Fi throughout, an air conditioned media room with a 60 inch flat screen television, DVD player, cable services and a writing desk if you need to work or just catch up on social media.
Villa Melissa is located on a private road that leads to a beach path and is set one property back from the beach. However, it's just a 2 -3 min walk(depending on your pace) to the beach. If you are planning a day at the beach the staff will take beach chairs and umbrellas down with a cooler for drinks.
Rental of the house comes with the services of staff 6 days a week . Rikki is the host, Patricia the cook and Grace the maid who love nothing better than looking after guests and their friends and families. Patricia has a wide repertoire of menus and can cater for most dietary requests. There is a menu at the house which has suggestions but Patricia can cook most things. Rikki is helpful and takes care of meals and drinks at the bar where the house favourite is a rum sour. Grace keeps that house clean and takes care of the laundry and has a wry sense of humour.
The cottage also has its own kitchen so this can come in handy when perhaps the party consists of more than one family or age groups booking together.
Facilities
Bbq
Cable tv
Ceiling fans
Media room
Pool
Poolside bar
Wifi
Short walk to beach
Aircon to bedrooms
Safe
Satellite tv
Location
Reviews
Out of this world - such a wonderful house and the staff were fantastic !
---
The staff at Villa Melissa were wonderful. Ricardo, the butler, took care of all of our needs…including amazing rum punches! Patricia cooked our delicious meals, and Nadine was a lovely house keeper. You may lounge by the pool, or take a short walk out the door to the beautiful West Coast beach. The Villa's proximity to the beach, fabulous restaurants, and shopping make it a must for anyone contemplating a trip to the Island. Villa Melissa is very family friendly, as the whole Villa sleeps 10 people. We were 8, and very comfortable. The bedrooms are air-conditioned, and there is plenty of common space for everyone to relax and enjoy themselves. I highly recommend a stay at Villa Melissa…you will not regret it!!!
---
We have all had an amazing time. Thanks to all the staff for looking after us so well. We have loved every minute. Villa Melissa is so much better than we ever imagined.
---
We had a wonderful holiday and staying at Villa Melissa was made exceedingly special by first and foremost, Patricia, and Ricky and Grace. We give them our heartfelt thanks for looking after us each and every day. Patricia - your cooking is 1st class. Better than Lone Star and even The Cliff. Open your own restaurant - we will come! Ricky - don't stop doing what you do.
Rates
Rates shown subject to local taxes
Currency
5 Bedrooms (Sleeps 10)
Low season rates from:
| Period | Per night |
| --- | --- |
| 11/01/23 to 14/04/23 | $1850 |
| 15/04/23 to 15/12/23 | $1350 |
| 16/12/23 to 10/01/24 | $not available |
| 11/01/24 to 14/04/24 | $1850 |
| 15/04/24 to 15/12/24 | $1350 |
Rates do not include Christmas period *subject to confirmation by owner