Forest Hills 33 Paradise Villa
Royal Westmoreland, St James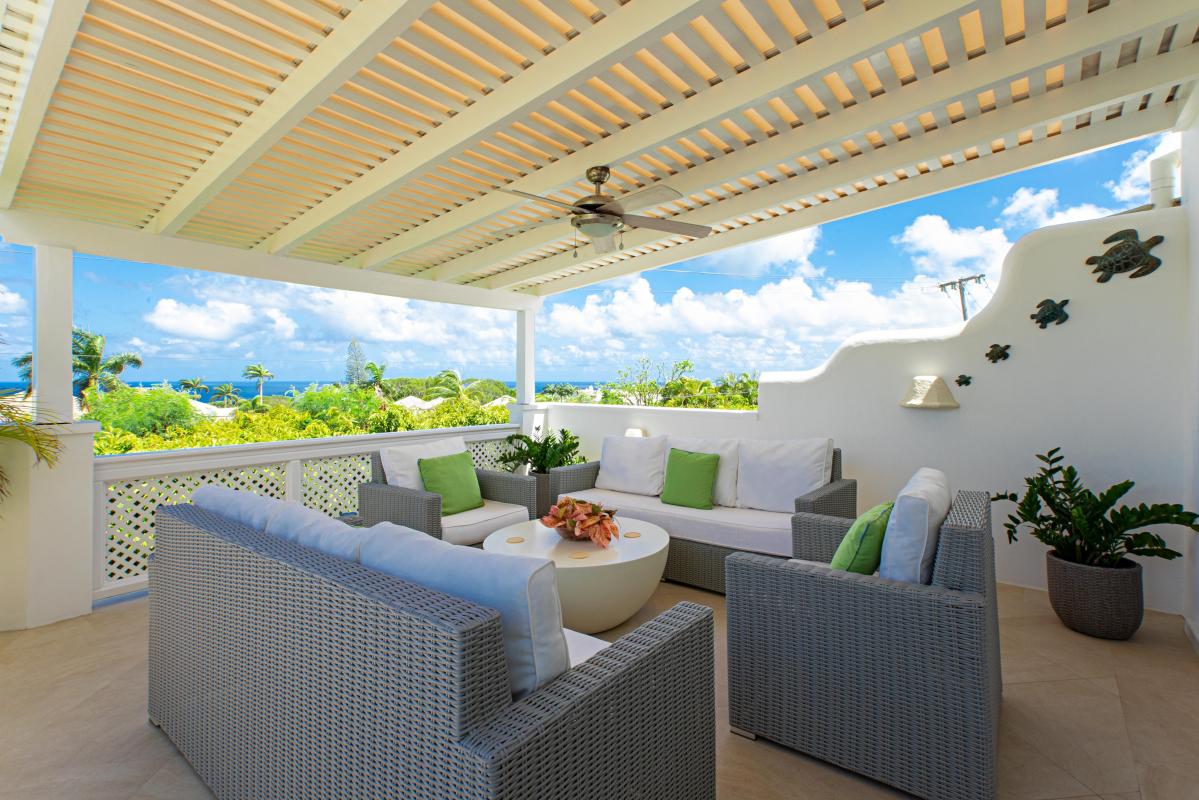 Minimum stay (nights): 7
3 beds
3 baths
Sleeps 4 to 6
Luxurious villa set within the exclusive Royal Westmoreland Estate offering a wide range of facilities for all the family to enjoy!
Please complete your details below to start your booking
---
Details
Paradise Villa offers Caribbean living at its finest; this luxurious 3 bedroom, 3 bathroom villa is located within the exclusive Forest Hills neighborhood in Royal Westmoreland, St. James – a world-class gated golf community reflecting not only a refined lifestyle, but offering full-time security and a fantastic selection of facilities for the entire family to enjoy.
The villa features 3 bedrooms with the master having an en suite bathroom. The kitchen is fully equipped with all modern appliances, inclusive dishwasher, microwave, blender, toaster and icemaker. The living, dining and sitting areas are all located on the upper levels and lead onto terraces offering stunning sea, estate or golf course views.
The villa's housekeeper will ensure the villa is kept tidy during your stay, and will also manage laundry services, leaving you with the sole task of concentrating on your enjoyably relaxing holiday.
Clients wishing to use Royal Westmoreland amenities will be required to pay upon arrival US$10 per day for the full number of days of their stay i.e. it is not possible to pay 'ad hoc' by the day. Children under the age of 16 do not require passes.
Staff: Housekeeper
Facilities
All bedrooms air conditioned and en suite
Assigned parking
BBQ
Access to Beach club
Breezy location
Cable TV
Ceiling fans
Communal swimming pool
Family location
Flat screen TV
Golf course
Gym
Onsite Rum Shop
Pro shop
Restaurant on site
Tennis Court
WIFI
Location
Reviews
Rates
Rates shown subject to local taxes
Currency
2 Bedrooms (Sleeps 4)
Low season rates from:
| Period | Per night |
| --- | --- |
| 11/01/23 to 14/04/23 | $550 |
| 15/04/23 to 14/12/23 | $350 |
| 15/12/23 to 19/12/23 | $550 |
| 20/12/23 to 10/01/24 | $1250 |
| 11/01/24 to 14/04/24* | $550 |
*Subject to confirmation by Owner
3 Bedrooms (Sleeps 6)
Low season rates from:
| Period | Per night |
| --- | --- |
| 11/01/23 to 14/04/23 | $700 |
| 15/04/23 to 14/12/23 | $450 |
| 15/12/23 to 19/12/23 | $700 |
| 20/12/23 to 10/01/24 | $1500 |
| 11/01/24 to 14/04/24* | $700 |
*Subject to confirmation by Owner